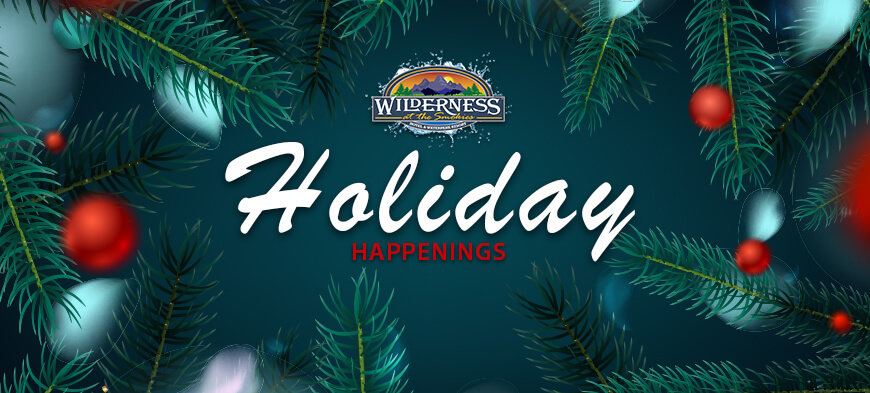 2020 Holiday Happenings – Join the fun!
Christmas is one of our favorite times of year. And, although it might be a little different this year because of COVID-19 safety precautions, we are still trying to make it special for littles.  Here's what we have planned:
Children's Activity Booklet
Instead of hosting a Santa's Workshop this year, From  Nov. 27 to Dec.24, when guests check-in, every child will receive a holiday-themed activity booklet with a mascot coloring sheet, letter to Santa template, holiday word search and holiday maze along with a pack of crayons. This will encourage kids to let their creativity shine as they get in the holiday spirit!
Completed letters to Santa will be able to be dropped off in the special mailbox for the North Pole by the River Lodge Conference Center.
Story Time
Join Mrs. Claus on Friday, November 27, December 4, 11 and 18 and then on Thursday, December 24 as she hosts 30-minute Christmas themed story times at 6, 6:30, 7 and 7:30 pm in our River Lodge Conference Center. (Please note due to social distancing only 12 children will be able to participate in each story time.) To sign up for a time visit guests services.
Meet and Greet Santa!
Despite COVID-19, kids can meet and greet Santa Claus on Saturday November 28, December 5, 12 and 19 from 12 to 5 pm in our holiday-themed River Lodge Conference Center. Santa will be seated with two decorated Christmas trees between his chair and a chair for the child/children for photo opportunities. Santa will also be sitting behind plexi-glass with a piece in between him and his little guests for everyone's safety.
Thirsty Miner's Amazing Christmas Dinner
Enjoy a Christmas Day feast to remember from 4-8 pm. The buffet will be served by masked waitstaff.
The Salad Table will feature: Waldorf Salad; Tropical Ambrosia; Fresh Seasonal and Tropical Fruits; Seasonal Greens with a  choice of Dressing; Peel and Eat Shrimp display accompanied with cocktail sauce and lemons; Shrimp Bisque soup; and Broccoli Mimolette.
The Carving Station will be serving: Smoked Bone-in Ham with Peach Glaze; and Slow Roasted Herb Crusted Prime Rib with Fresh Rosemary Jus served with Cranberry Sauce, Orange Mustard and Creamed Horseradish.
Entrees will include: Cedar wrapped Salmon Meuniere; Wild mushroom Porcini Pork Tenderloin with Glace de viande; Coq au vin Chicken; Peach Bourbon Glazed  Pork Ribs; Three Cheese Ravioli with Al la vodka; Broccoli Tahini; Herb Roasted Garlic Fingerling Russian Banana Laratte and Purple Pervian Potato; Stewed Apples; Cornbread Dressing with Cranberry Pinot Noir Sauce; Mixed Berry Cheese Blintz; Roasted Sweet Potato with Honey Cinnamon Glaze; Sweet Yellow Buttered Corn; Traditional Mashed Potatoes; Baked Garlic Parmesan Zucchini and Summersquash Fries; and Dinner Rolls.
The Children's Buffet will include: Chicken Nuggets; Macaroni and Cheese; Mini Corn Dogs; Buttered Corn; French Fries; Cheese and Pepperoni Pizzas and Cookies and Brownies.
To finish off your meal there will be a fine selection of desserts including: Cakes; Pumpkin Pie; Pecan Pie; Cream Pies; Cheesecake; Petit Fours; and Mini Cannolis.
Cost is $32.99 for ages 12 and up; $12.99 for children 7 to 11 years old; and $7.99 for kids 4 to 6 years old. Tables will be spaced six feet apart from each other and will be disinfected between use. The restaurant will also be operating at a reduced capacity. Reservations will be required. Please call 865.868.4473 to make your reservation.
Ice Skating
We're remaining committed to continuing our holiday tradition of ice skating at the resort! From November 13-January 10th a 3,200 square foot portion of our outdoor wave pool will once again be converted into a festive, real ice skating rink, where hotel guests and the public can take in the holiday air and have fun together in a safe, social distanced manner. Music and holidays lights will add to the fun atmosphere.
For complete details visit: https://www.wildernessatthesmokies.com/blog/ice-skating-to-return-november-13-january-10/
Winterfest in Pigeon Forge, Gatlinburg and Sevierville
Finally, many of the region's entertainment and tourist attractions transform for the holidays. Smoky Mountain Winterfest offers a spectacular display of lights and events across these three mountain towns to celebrate the chilly season with light displays, unique shopping, award-winning shows and attractions — all while showcasing the winter beauty of the Great Smoky Mountains National Park.
Holiday Story Time Package – 48 Hour Notice Required
Our Holiday Story Time Package includes a 'Twas the Night Before Christmas book, a Wilderness plush animal, a pint of TruMoo milk and 2 chocolate chip cookies for $35. (additional add-ons available). This package can be delivered to your room before you arrive for a great surprise!  Call ahead and let an associate know if you would like to book this package!
We hope to see you this holiday season! Happy Holidays from all of us at Wilderness at the Smokies!