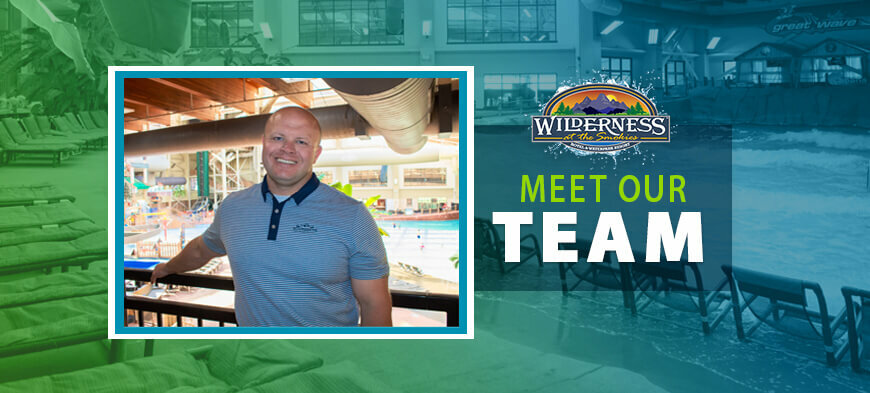 Get to know Chase, Our Assistant GM
Name: Chase
Title: Assistant General Manager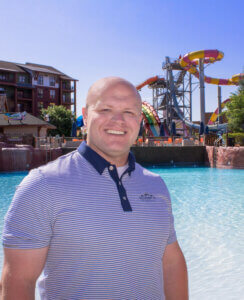 So, what does your title mean you do at Wilderness at the Smokies?
I oversee the day-to-day operations of the property. I communicate with department leaders to make certain that they have the tools, resources, and supplies necessary to ensure our guests have a wonderful and lasting memory of our property.
What is the best part of your job?
Being able to see both sides of the coin. To see how hard our associates work behind the scenes to provide the "ultimate" guest experience, and then being able to experience the smiles of our guests first hand when I am walking the property.
How long have you worked at the Wilderness at the Smokies and in what roles?
In total, I have worked with Wilderness at the Smokies almost 11 years. I started here as a lifeguard and was promoted to Lifeguard Supervisor, then Waterpark Manager. Following that, I worked as a security guard, Safety & Risk Manager, and, of course, my current role as Assistant General Manager.
Favorite wet attraction at the Wilderness at the Smokies?
The Wild Vortex at Lake Wilderness, it has a trap door entrance and is looping slide that generates 2.5G's in less than 2 seconds. If you're like me and looking for a thrill ride, look no further.
Favorite dry attraction at the Wilderness at the Smokies?
Our real ice skating rink inside Winter Wilderland, offered seasonally Mid-November through early January. Where else can you skate and swim at the same time?
Favorite food venue at Wilderness at the Smokies?
Our newest addition to the property, Tacolicious! In my opinion, the best way to cap off a long day at the waterpark is with tacos.
Favorite thing to eat at Wilderness at the Smokies?
The char-grilled chicken wings from Firefly Bar and Grill in River Lodge. My go to flavor is the garlic parmesan served with ranch dressing.
Piece of advice for first time guests?
Be sure to make time for everything the property has to offer. Delicious dining options, world class arcade, and of course our wonderful waterparks – do it all!
Now for some fun stuff:
Favorite toy when you were a kid?
It was and still is a baseball. Although, my passion for the game has transitioned over the years from playing to coaching my son's team and rooting for the Atlanta Braves!
All-time favorite movie?
Forrest Gump, I can pretty much quote the entire movie line for line.
All-time favorite TV series?
The Wonder Years. I still watch reruns of the show today. Following Kevin through his childhood resonated deeply with me as it was similar to my life. My favorite part of the show was the voice over at the end of the show reflecting on what happened and what was to come.
Favorite ice cream flavor?
French Vanilla for the win!
What toppings do you like on your pizza?
Bacon and cheese!