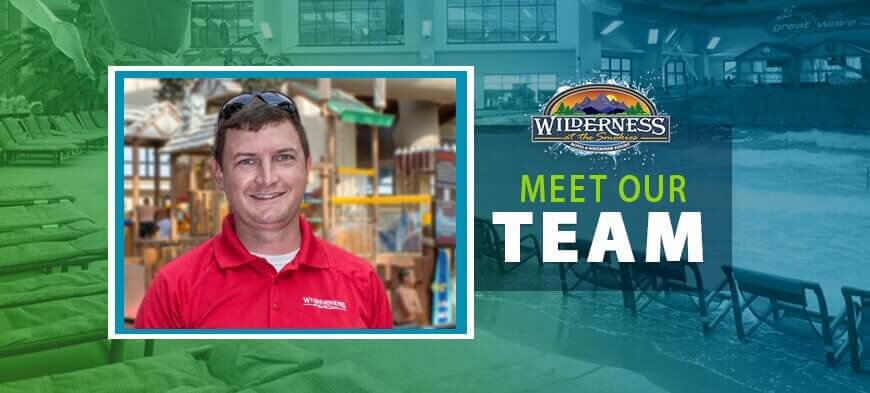 GET TO KNOW RYAN OUR AQUATICS DIRECTOR
Name: Ryan
Title: Director of Aquatics
So, what does your title mean you do at Wilderness at the Smokies?
As the Director of Aquatics, I oversee the waterparks including lifeguards and supervising staff, as well as the operations of all water attractions. Safety is our primary focus, followed closely by cleanliness and fun. I also love meeting new lifeguards. For a lot of them it's their first job. I try to instill some good habits and help them find the path to a career, even if it's not in the leisure industry.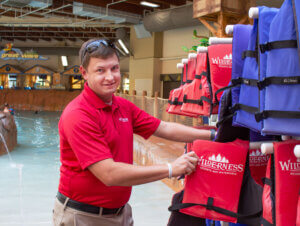 What is the best part of your job?
I work where other people go for vacation. I have three boys and they love to come to my work. They really like the arcade.
How long have you worked at the Wilderness at the Smokies and in what roles?
I started as Assistant Manager in September of 2009, became a Manager in May of 2015 and Director in December of 2016. I started lifeguarding at a community pool in 2002.
Favorite wet attraction at the Wilderness at the Smokies?
The Wall is a two-person tube slide with a drop the makes you feel weightless followed by a trip up then backwards down a wall, (hints the name) then you slide to a stop in the runout. It's fast, smooth and gets your heart racing, everything you're looking for in a water slide.
Favorite dry attraction at the Wilderness at the Smokies?
The ropes course in the arcade is a great way to face your fears and test your balance.
Favorite food venue at Wilderness at the Smokies?
The Mountain Market Deli! The crew is always fast and friendly, whether you're getting a panini and a soda or piece of cake with your favorite Starbucks coffee, it's my go to spot for a quick bite.
Favorite thing to eat at Wilderness at the Smokies?
Billy Jack's snack shack makes a great Philly Cheesesteak. They'll make it however you want it, but I'm a traditional kind of guy.
Piece of advice for first time guests?
Stay more than 1 night there's too much to do for a 1 night stay. Plus you need some time to relax.
Now for some fun stuff:
Favorite toy when you were a kid?
Teenaged Mutant Ninja Turtles, I had a whole set and the van.
All‐time favorite movie?
Indiana Jones: Raiders of the Lost Ark
All‐time favorite TV series?
Friends
Favorite ice cream flavor?
Classic Chocolate
What toppings do you like on your pizza?
BBQ Chicken