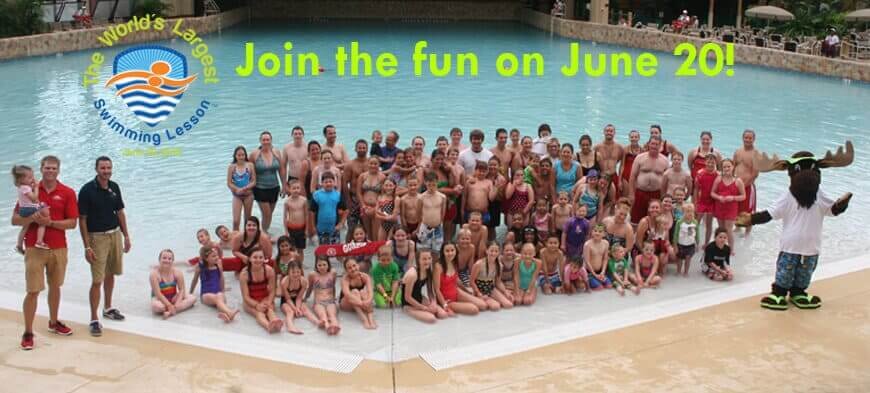 JOIN US FOR THE WORLD'S LARGEST SWIMMING LESSON ON JUNE 20
Are you going to be staying at the Wilderness on Thursday, June 20th or do you live close by and have children ages 4-12 that could benefit from participating in a group swimming lesson?  Then be sure to register them for the World's Largest Swimming Lesson™ that Wilderness at the Smokies will be participating in simultaneously along with other swimming venues around the world.
The hour and a half lesson will begin promptly at 10:30 a.m. on Thursday, June 20th in our Lake Wilderness waterpark, and will cover a variety of safe swim topics all tailored to fit a range of ages and experience levels.
According to Ryan, our Aquatics Director, "Knowing how to swim is critical for your family's safety and so we are hoping everyone staying at the resort on June 20th or anyone who lives close by will want to participate in this fun event. After the swimming lesson local children will receive a free pass to stay and play in the waterparks, and their parents will receive 50 percent off of a day pass. Each family will also receive a coupon for 50 percent off a future day pass admission for up to six people."
This is the 10th year this event has been held around the world. Since its inception, more than 278,000 children and adults have participated in WLSL lessons generating more than a BILLION media impressions about the vital importance of learning to swim. The 2018 WLSL event included 41,814 participants from 27 countries.
Parents should accompany their younger children in the water. All participants will receive a certificate that shows they participated. Parents will need to arrive at 10 a.m. on June  20th, the day of the event, to complete paperwork. For additional information please contact [email protected].