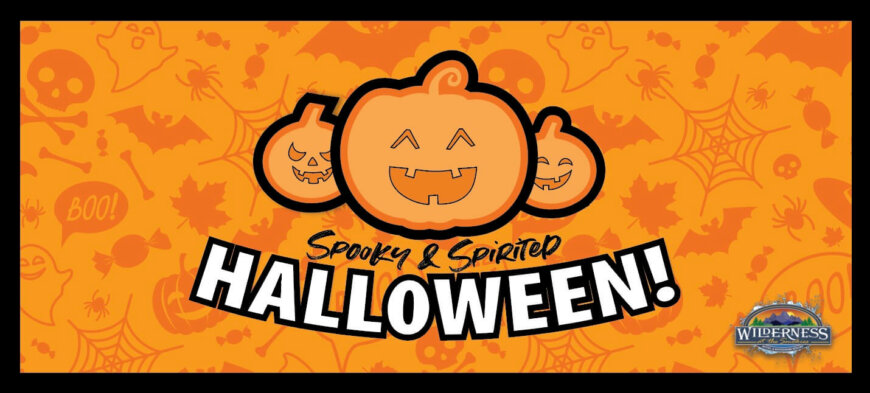 MAKE YOUR HALLOWEEN HAPPY AT WILDERNESS AT THE SMOKIES
Is your family looking to have a fun and safe way to celebrate Halloween this fall? Consider packing up your little ghosts and goblins and heading to Wilderness at the Smokies for these guest-exclusive activities!
Coloring Contest:
All guests arriving October 28 and 29 with littles will be able to pick up a coloring contest sheet and crayons at check-in. Completed coloring contest entries must be turned in to Monty's Party area near Candy Cabin in the designated entry box by no later than noon on Sunday, October 30. A winner will be selected on Monday, October 31, and mailed a Wilderness gift card.
Monty's Halloween Bash:
Join Monty the Moose and our Activities Team in the River Lodge Conference room on Saturday, October 29 from noon until 2:00p for a Spook-tacular Halloween Party, complete with dancing, crafts, and refreshments.
Trick or Treat Trail:
Upon check-in, guests will also receive a map of this year's Trick or Treat Trail. Then on Saturday, October 29, from 5-8 pm kids can get decked out in their Halloween costumes and walk the trail with ten different stops to receive sweet treats and small toys.
Virtual Costume Contest:
Our annual Halloween Costume Contest for guests will be virtual again this year. Guests can enter by following these three easy steps:
1. Post on Facebook or Instagram a photo of you or your family dressed in your Halloween costumes at your favorite spot at Wilderness at the Smokies from 10/24-10/30
2. Tag @wildernesssmokies in your post
3. Add the hashtag #wildernesssmokieshalloween2022
A winner will be announced on 10/31/2022 and will receive a Wilderness at the Smokies gift card.
Jack-O-Lantern Contest:
Guests can view and vote on their favorite Jack-O-Lantern created by our staff outside of Candy Cabin between noon October 28th through October 30th. A winner will be announced on Monday, October  31.
Want to carve one at home? Download and print the pumpkin carving sheets of Monty and Molly below.