 Molly's Shake Shoppe Coming March 2023!
On January 2, Grizzly's Grill in the Wild WaterDome closed temporarily for a three-month renovation. One of things the renovation is making room for is Molly's Shake Shoppe! It will open sometime in March and will feature out of this world ice cream shakes mixed with all sorts of crazy flavors and toppings!
Start planning now which one you will want to try! There will be: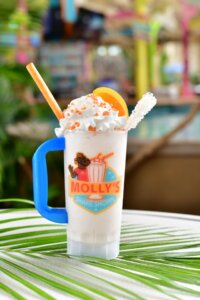 The Dreamsicle – a Vanilla-Orange shake with whipped cream, rock candy, fresh orange, orange cane and sugar pearls.
Coocoo for Cocoa – a Chocolate Cocoa Puff cereal shake with whipped cream, Oreo Crumbles, Cocoa Puffs and a chocolate donut topped with chocolate syrup.
The Birthday Cake – a Cake Batter shake with whipped cream, sprinkles, gummy bears, and an iced cupcake.
The Wake 'N Shake – a Maple Cinnamon Toast Crunch cereal shake with whipped cream, gummy fried eggs, bacon lollipop and a waffle topped with maple syrup.
The Cookie Monster – a Vanilla shake with whipped cream, Oreo crumbles, Cookie Crisp cereal, cookie dough bites and a pirouette cookie
Berried Treasure – a Trix cereal shake layered over strawberry puree, with whipped cream, a candy ribbon, gummy sharks and a ring pop.
Cotton Candy – a Cotton Candy shake with whipped cream, candy ribbons, cotton candy cane and sugar on top.
Editor's note: Molly's Shake Shoppe opened for business on March 16, 2023.