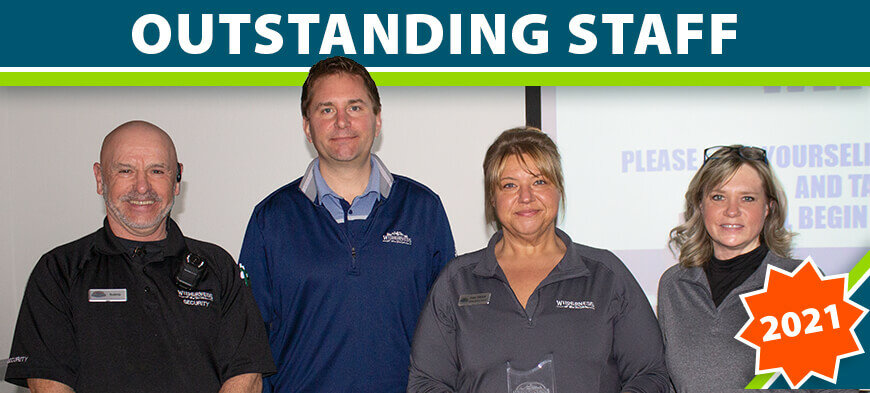 THANKS FOR HELPING US HONOR OUR OUTSTANDING EMPLOYEES
L-R: Bobby P., Pete T. our Managing Director, Jennifer M. and Kim J. our Human Resources Director
We'd like to thank all of our valuable guests for submitting comment cards to recognize a Wilderness employee or manager for a job well done. We wanted to share with you how these cards really do make a difference! Results are compiled monthly, and together with our directors' input, one employee is honored. Then once a year we select the "Manager of the Year" and "Employee of the Year" for having the ultimate "can-do-it" attitude and for exceeding guest expectations.
The 2021 "Manager of the Year" was Jennifer M. who has been a Wilderness at the Smokies team member since 2014. She began her career with us as a Human Resources Assistant and through the years has been promoted to HR Generalist, HR Benefits Manager, International Recruiting Manager, and most recently HR Manager.
Jennifer currently heads up our resort's WIT Program (whatever it takes, retention program).  A program that meets monthly to organize fun activities for our employees and hosts fundraisers for the community.  In addition, she hosts the resort's annual Wilderness Workshop – A fun management training workshop that is a perfect combination of retention goals, team building and management training.
Prior to joining the Wilderness team, she was an Administrator at an outpatient surgery center in Chicago. She lives in Morristown TN.
According to Jennifer's supervisor, "Jennifer goes above and beyond to assist our employees…No matter how busy she is, she will always make time to assist employees and to answer questions. Jennifer takes the employee's view into consideration and is always trying to do what's right by them.  She is fair, doesn't show favoritism and has a great sense of integrity."
Jennifer was awarded a PTO Day; a two-night stay at a hotel; a $500 bonus; a $100 Visa card; dinner for two at the Thirsty Miner or Hidden Trail; local entertainment tickets; and a $20 WATS gift card.
The 2021 "Employee of the Year" was Bobbie P. who has been a Security Guard with the resort since 2019. In this position, he maintains the safety and order at all of the Wilderness at the Smokies properties.  Prior to joining the Wilderness team, he worked for 25 years for the US Army and for 15 years as a Sheriff's Deputy/Corrections Officer.  He holds a certificate in Business and is a National Notary Signing Agent. He lives in Sevierville with his wife Treva and 2 children.
According to one of Bobby's supervisors, "Bobby is a great co-worker. He is always on the go. He is considerate, helpful and nice. He is a team player, and always smiles and greets anyone and everyone as if they are an old, dear friend."
Bobby received a PTO day; a one-night stay in Gatlinburg;  a river boat and dinner excursion for two; a $250 bonus; a $50 gift card to Walmart/Amazon or Food City; dinner for two at Thirsty Miner or Hidden Trail; a parking pass to park wherever he wants at the resort for a month; and local entertainment tickets.
We'd like to congratulate both Jennifer and Bobby for jobs well done!