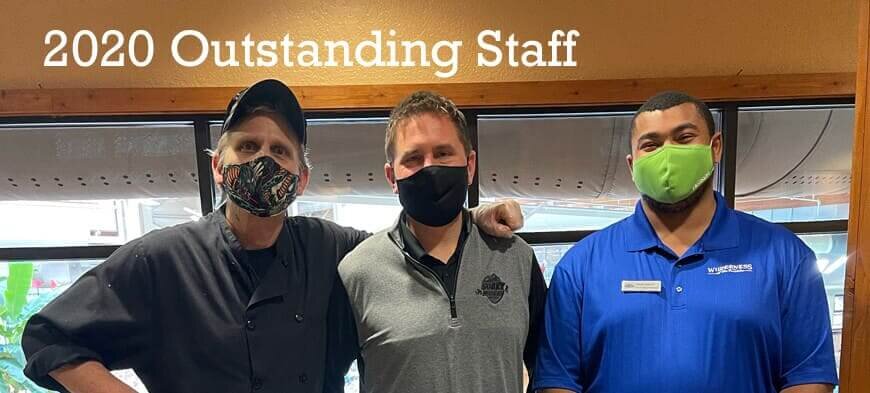 THANKS FOR HELPING US HONOR OUR OUTSTANDING EMPLOYEES!
We'd like to thank all of our valuable guests for submitting comment cards to recognize a Wilderness employee or manager for a job well done. We wanted to share with you how these cards really do make a difference! Results are compiled monthly, and together with our directors' input, one employee is honored. Then once a year we select the "Manager of the Year" and "Employee of the Year" for having the ultimate "can-do-it" attitude and for exceeding guest expectations.
The 2020 "Manager of the Year" was Tom D. (left in picture), who is the Kitchen Manager in the Thirsty Miner.  Tom has stepped full force into this role and has produced amazing results. His main goal is to provide an exceptional dining experience for all our guests at the Thirsty Miner while lowering food costs and making menu items that are memorable. Tom puts his heart and soul into everything he cooks. He strives to be a good leader, motivating and training staff to be the best they can be while serving as a role model for them. He has been with the resort since 2017.
The 2020 "Employee of the Year" was Chris J. (right in picture), who was actually promoted in November 2020 for his hard work. He had been serving as Food and Beverage Supervisor, but now is Assistant Food and Beverage Manager for Firefly Bar and Grill, Mountain Market Place and Deli, Yukon Yogurt, Candy Cabin, and Soaky Mountain Waterpark.
In his current role, he is responsible for assisting his team with schedules and time recording; menu updates; training; data entry; cash handling; interviews and on boarding; billing and coding; as well as reports and financial planning. Prior to this, as a supervisor, Chris helped train and grow the Food and Beverage team with his positive attitude and willingness to jump in and help where needed. Chris always has a smile on his face and is a joy to work with. He worked at the resort from 2013-2017 and then rejoined our Wilderness team in 2020.
We'd like to congratulate both of these fantastic employees for a job well done!