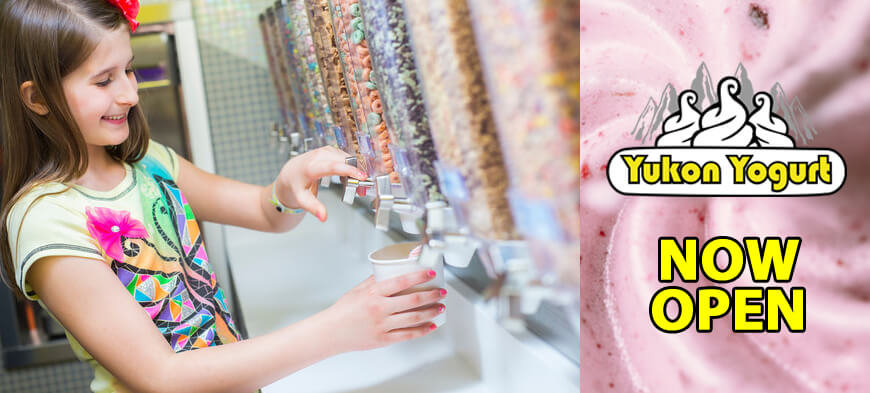 YUKON YOGURT – NOW OPEN
Are you a frozen yogurt fan? If you are, you will want to check out our new Yukon Yogurt, located next to the Thirsty Miner.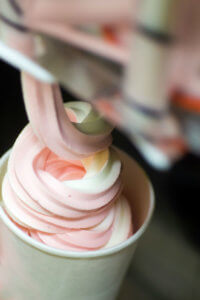 At Yukon Yogurt you can build your own sweet, frozen treat! Grab a cup, choose from the 15 flavors of frozen yogurt or sorbet, add your toppings, weigh, pay and enjoy!
Some of the flavors include: Chocolate Class, French Vanilla, Very Berry Sorbet Hawaiian Pineapple, Sweet Coconut and Very Strawberry. (Are you drooling yet?) Add some crushed candy bar toppings, nuts, fruit and chocolate or caramel sauce!  It is never the same treat twice.
Our frozen yogurt also offers good tasting wellness! In addition to being low in cholesterol and certified OU-D Kosher, each yogurt flavor contains five different live active cultures, including three probiotic strains. These help to promote healthy immune and digestive systems.  Looking for dairy free? Our sorbet fits the bill. Going gluten-free? No worries, most of our flavors do not have gluten. All of our flavors are clearly labeled whether they are non-fat, low fat or no sugar added.
Yukon Yogurt will be open most day during peak season from 11 am to 11 pm. Check out our Wilderness Express to be sure of hours.