What's New at the Wilderness?!
WATCH OUR SOCIAL MEDIA FOR UPDATES & PROGRESS PHOTOS!
Tacolicious Food Truck!
Our Food & Beverage team is excited to announce we will be unveiling a taco food truck in our Lake Wilderness outdoor waterpark by the wave pool beach for summer 2022!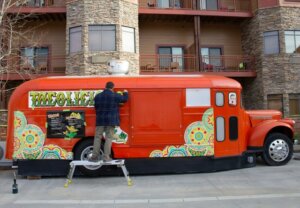 The truck will be home to Tacolicious and it will be serving AMAZING Chicken, Carne Asada (Steak), Cajun Shrimp, and Beef Tacos. Loaded nachos will also be available. Some of you may be familiar already with the Tacolicious concept from Soaky Mountain Waterpark, which is also owned by our parent company Wilderness Resorts and Waterparks.
The truck was purchased in 2019 by Wilderness Resorts and Waterparks from a man in Illinois who had the intention of making it into a Monster Truck and we're sure glad that he didn't!
The truck should be operational by April when the outdoor waterpark opens.
---
Meet our neighbor – soaky mountain waterpark!
Our new neighbor across the street from us, Soaky Mountain Waterpark, will be celebrating its third season with the introduction of The Edge, a dueling watercoaster; an expanded Tacolicious food truck; a new PHILLY UP! Cheesesteak food truck; two new deck spaces with 1,000 new seats; and the addition of four more clamshell cabanas, three cabanas and five two-story cabanas.
Wilderness at the Smokies guests can purchase discounted tickets to Soaky Mountain Waterpark at the time of check in. Just ask us how!
Soaky Mountain Facebook Page  |  Soaky Mountain Instagram  |  Soaky Mountain Twitter