What's New at the Wilderness?!
WATCH OUR SOCIAL MEDIA FOR UPDATES & PROGRESS PHOTOS!
WATERPARK EXPANSION!
We're super excited to announce that in honor of our 15th anniversary which we will be celebrating in 2023, we have started a 40,000-square-foot expansion of our Wild WaterDome.
The expansion will include: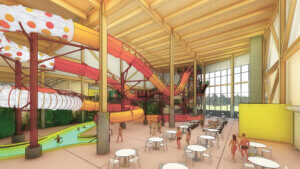 Ridge Runner, is a three-story water coaster which will feature three steep drops, uphill blasts, high speeds, and the premier of the world's first slide with Reverse AquaLucent effects with colorful, spellbinding patterns. These special tubes will also allow light to filter through, adding brightness to the Wild WaterDome.
According to Pete, our Managing Director, "Ridge Runner is guaranteed to be amazing! To get riders' adrenaline pumping, the water coaster begins with a heart-pounding 22-foot drop at 29 mph before propelling the riders up into a right hairpin turn inside the first Reverse AquaLucent section. A second drop will follow into an open flume, followed by an uphill blast into a sharp left turn inside another Reverse AquaLucent tube with different patterns. For thrill's sake, the coaster will repeat a third time into a final set of patterns inside another Reverse AquaLucent tube. To round out the sensations, riders will loop through a dark tube before finishing in an open flume."
The waterpark expansion will also include Kaleidoscope Kavern Lazy River, featuring an immersive tunnel experience complete with LED color-changing kaleidoscope lighting, mirrors, and projections.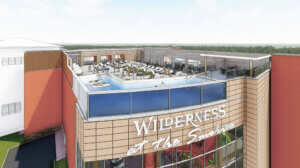 Finally, the resort will be taking advantage of the waterpark's expanded rooftop by adding Lookout Lagoon, a rooftop pool with a glass edge. This area will also be home to the Peak Rooftop Bar and Grill, three rooftop cabanas, and an entertainment stage area. For convenience, an elevator will transport guests to and from this area.
Pete adds that per guests' requests, the resort will be adding 500 seats to the waterpark, six additional cabanas on the mezzanine level of the waterpark, and nine additional on the main level.
The anticipated completion of this expansion is in the fall of 2023. Watch our blog for other developments in the works!
XD Adventure Theater!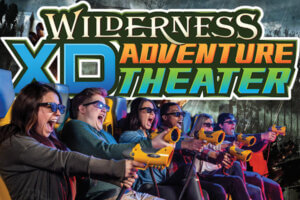 Our new XD Adventure Theater is the ultimate interactive 3-D adventure ride game – NEW to the Wilderness!
As your seats move dip and dive with the action, use your laser blaster to get the zombies, ninjas, or robot bandits in our 3 games to choose from.  Play Los Banditos, a western-style adventure complete with robot bandits.  Are you brave enough to battle the undead in Zombies?  This one will almost have you jumping out of your seat as you save yourself and others from a wave of terrifying zombies.  We also have Neon Ninja, a futuristic world where you battle flying robots, ninjas, and other pesky enemies.  Strap in and have fun!
Minimum rider height of 36″
Maximum rider weight: 350lbs
Tacolicious Food Truck!
Our Food & Beverage team is excited to announce we will be unveiling a taco food truck in our Lake Wilderness outdoor waterpark by the wave pool beach for summer 2022!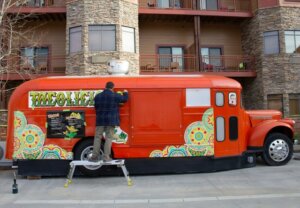 The truck will be home to Tacolicious and will serve AMAZING Chicken, Carne Asada (Steak), Cajun Shrimp, and Beef Tacos. Loaded nachos will also be available. Some of you may be familiar already with the Tacolicious concept from Soaky Mountain Waterpark, which is also owned by our parent company Wilderness Resorts and Waterparks.
The truck was purchased in 2019 by Wilderness Resorts and Waterparks from a man in Illinois who had the intention of making it into a Monster Truck and we're sure glad that he didn't!
The truck should be operational by April when the outdoor waterpark opens.
---
Meet our neighbor – soaky mountain waterpark!
Our new neighbor across the street from us, Soaky Mountain Waterpark, will be celebrating its third season with the introduction of The Edge, a dueling watercoaster; an expanded Tacolicious food truck; a new PHILLY UP! Cheesesteak food truck; two new deck spaces with 1,000 new seats; and the addition of four more clamshell cabanas, three cabanas, and five two-story cabanas.
Wilderness at the Smokies guests can purchase discounted tickets to Soaky Mountain Waterpark at the time of check-in. Just ask us how!
Soaky Mountain Facebook Page  |  Soaky Mountain Instagram  |  Soaky Mountain Twitter