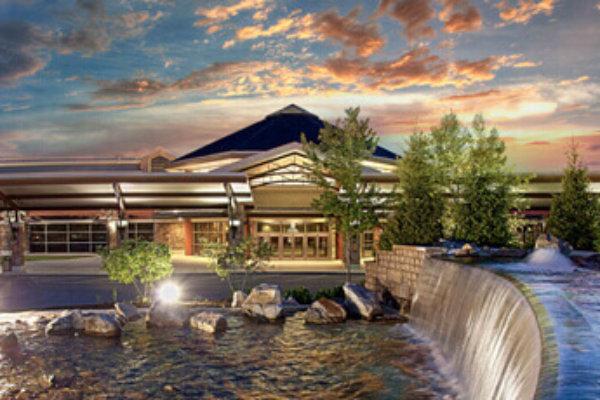 Weddings & Honeymoons
"I was impressed with The Wilderness at the Smokies Resort. It is rustic with an elegant touch and the food was unbelievable. The staff showed true southern hospitality!"
Lana Needham, Southern Style Wedding.com
With the stunning Smoky Mountains as a backdrop, nestled on the edge, Wilderness at the Smokies Resort offers a perfect blend of rustic luxury and convenience. A wedding at the Wilderness at the Smokies is the dream of pure romance! Whether your Wedding Celebration includes cocktails and delicious hors d' oeuvres in our cozy and rustic decorated Deep Creek Banquet Room, a formal dinner and dancing in our Cades Cove Banquet Room, or a casually elegant afternoon brunch, Wilderness offers the perfect setting for this once-in-a-lifetime event.
We understand it's the most important day of your life and that it has to be perfect. That's why our experienced staff is here to help make your destination wedding an event that your guests will remember for a lifetime. No matter what your dream may be for your special day, our staff will ensure that each detail is intricately designed to meet your every wish, from elaborate designs to simple elegance.
Hidden Trail, Thirsty Miner, Bluegill's Cove, Lake Wilderness Cabanas or our Wild WaterDome meeting spaces make wonderful spots for rehearsal dinners, and bridal showers. The Sevierville Golf Club and nearby Spas, Shopping, Attractions, and Outdoor Recreation, offer the perfect way for your wedding party to have fun and relax before the big event. We make it easy for you to plan the day you've dreamed about your entire life!
Click here to submit a Request for Proposal for that special day you have in mind. Or if you prefer, please contact Shearer Ashley, Wilderness at the Smokies Sales & Event Manager at 865-868-2177