Accessible King Suite
Sleeps up to 3 guests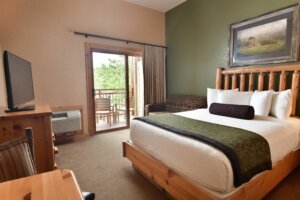 The Accessible King Suite is a 362 square-foot room that features a King-size bed and a Twin sleeper sofa.
Sleeps up to 3 guests
(Children, ages 2 & under, stay FREE and do not need to be included in the number of registered guests.)
Waterpark access is included with your stay for all registered guests.
One King-size Bed
One Twin Sofa Sleeper
Television
Microwave
Refrigerator
Coffee Maker
Hair Dryer
In-Room Safe
Iron and Ironing Board
Accessible Features include:
Roll-in shower
Seat affixed to shower wall
Higher toilet
Toilet support bars
Lowered bathroom sink
Lowered peep hole
Lowered coat rack
Phone call alert light
Fire Alarm (sound) Hard Wired
Fire Alarm Flashing Strobe
Floor to bottom of bedframe – 10″
Floor to top of comforter – 24″
Exterior Doorbell Strobe
Lowered kitchen counter
Bathrooms in all HDC Guest Rooms are larger than standard non-HDC bathrooms to allow a reasonable turn radius (47 to 54 inches diameter turn possible versus 32 inches). All doorway widths are 34 3/4″.
NOTE: Bunk beds at River Lodge have 23″ clearance from the underside of the top bed to the top of the lower bed's comforter.
*Consulting with Commercial Building Systems (Alarm company) for installation of flashing strobe lights in room 24019 at Stone Hill Lodge.