 GET TO KNOW CHELSEA, OUR SALES ADMINISTRATIVE ASSISTANT
Name: Chelsea G.
Title: Sales Administrative Assistant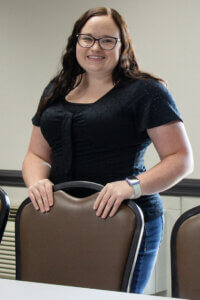 So, what does your title mean you do at Wilderness at the Smokies?
I pull and write reports through multiple software systems, answer guest phone calls and emails, assist guests with group reservations, ensure guest satisfaction, follow up with groups regarding rooming lists and payment, and any other task assigned by management.
What is the best part of your job?
Working with our amazing sales team!
How long have you worked at the Wilderness at the Smokies and in what roles?
It will be 3 years in June 2023. I started at Soaky Mountain Waterpark as an admissions associate and then transferred to Wilderness at the Smokies as a front desk associate. I then went back to Soaky as an administrative assistant for the summer season and returned again to the Wilderess at the Smokies as a  front desk associate. One year ago I moved into the group sales department.
Favorite wet attraction at the Wilderness at the Smokies?
The WALL at Lake Wilderness
Favorite dry attraction at the Wilderness at the Smokies?
XD Adventure Theater
Favorite food venue at Wilderness at the Smokies?
Camp Social
Favorite thing to eat at Wilderness at the Smokies?
Bacon Cheeseburger or Steak Tacos
Piece of advice for first time guests?
Be sure to check out our add-on packages when you book your room. We have a huge variety of options, whether you're celebrating a birthday, looking for something sweet, or just need pool supplies, we will make sure to have it in your room the day you arrive!
Now for some fun stuff:
Favorite toy when you were a kid?
TY Beanie Babies
All-time favorite movie?
I don't have a favorite but my go-to genre is anything horror
All-time favorite TV series?
Avatar the Last Airbender – yes, I'm a child at heart!
Favorite ice cream flavor?
Anything with cookies or chocolate in it
What toppings do you like on your pizza?
Ham and Pineapple