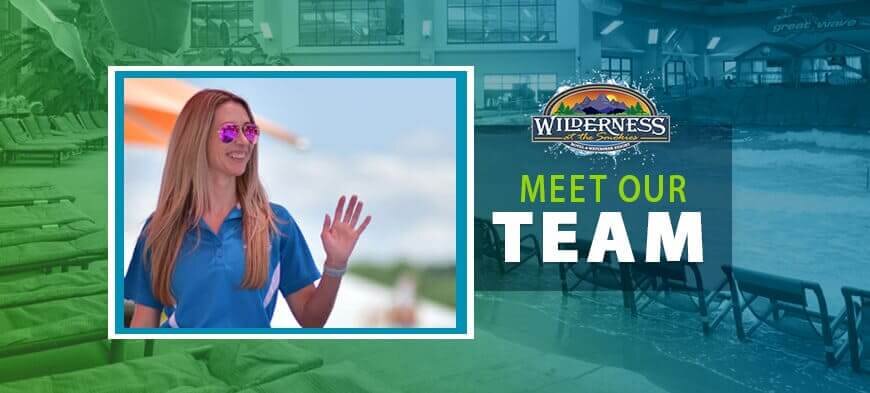 Get to know Nikki Our Director of Sales
Name:  Nikki H.
Title: Director of Sales
So, what does your title mean you do at Wilderness at the Smokies?
My role with WATS encompasses many different duties and responsibilities. I oversee the group sales department for both Wilderness and Soaky Mountain; managing a staff of three Sales Managers, as well as booking all of our sporting event groups. My department oversees activities, mascots, special events; which includes holiday planning, ice skating, and planning entertainment for the resort.  Additionally, I work alongside the marketing team and serve as a media spokesperson where needed and I attend community events to represent Wilderness at the Smokies. This includes serving as Vice Chair on the Sevierville Chamber of Commerce Board of Directors.
What is the best part of your job?
The "win".  Whether that be booking a new group, or watching a small idea such as ice skating bloom into an intricate part of Wilderness at the Smokies holiday activities.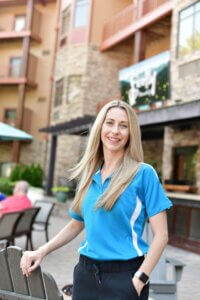 How long have you worked at the Wilderness at the Smokies and in what roles?
Eleven years.  I started at the resort as a sales manager, promoted to Director of Sales in November 2014, which is the title that I still carry.  However, over time my role has expanded to include acting spokeswoman…I am always willing and anxious to jump in for the next project. 
Favorite wet attraction at the Wilderness at the Smokies?
Storm Chaser-the lights!  Need I say more?
Favorite dry attraction at the Wilderness at the Smokies?
Laser Tag is a great team building activity.
Favorite food venue at Wilderness at the Smokies?
Firefly-the charred Caesar salad is my favorite!
Favorite thing to eat at Wilderness at the Smokies?
Not really eat…but coffee.  I cannot live without coffee.  Having Starbucks in the deli is a lifesaver some days.  And now we have a Starbucks in Stone Hill…my coffee budget just increased exponentially.
Piece of advice for first time guests?
Choose to stay during the week.  Take advantage of a more relaxed atmosphere.  And you can get the full Wilderness experience at your own pace.
Now for some fun stuff:
Favorite toy when you were a kid?
Talkboy…I was a Home Alone fan and Kevin had a Talkboy in Home Alone 2.
All-time favorite movie?
Dirty Dancing…I have seen it at least a hundred times.  And I will always watch it if it is on TV
All-time favorite TV series?
Friends…I've also watched the full series probably about 10 times.  Both of my daughters have taken a love to it and they have each seen the series multiple times.
Favorite ice cream flavor?
Chocolate.
What toppings do you like on your pizza?
Anything but green peppers.  And the spicier the better. Sausage, pepperoni, jalapenos, banana peppers, bring on all the toppings.