 Get To Know Our Retail Director Kathie
Name: Kathie
Title: Retail Director
So, what does your title mean you do at Wilderness at the Smokies?
I oversee the day to day operation of three shops in River Lodge and one in Stone Hill Lodge.  Some of my responsibilities include buying, budgeting, merchandising, and inventory control as well as mentoring my team.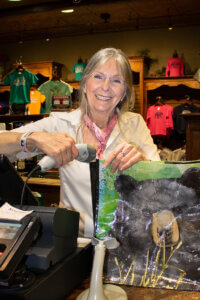 What is the best part of your job?
Seeing how excited our guests are to be here.  I love the merchandising aspect of my job.  Creating a display that tells a story the kids immediately understand is magic.  Mentoring my team and watching them grow and succeed is fulfilling.
How long have you worked at the Wilderness at the Smokies and in what roles?
I was hired in December of 2008 as Retail Manager.  In 2014, I was promoted to Retail Director.
Favorite wet attraction at the Wilderness at the Smokies?
The lazy river.  Relaxation is key. 
Favorite dry attraction at the Wilderness at the Smokies?
Ice skating.  What a great addition for our winter guests!  And we sell s'mores.
Favorite food venue at Wilderness at the Smokies?
Mountain Market Deli
Favorite thing to eat at Wilderness at the Smokies?
Rosemary's provolone and walnuts on toasted wheat bread…too yummy!
Piece of advice for first time guests?
Play…eat…shop…relax…eat…play…shop…relax…repeat!
Now for some fun stuff:
Favorite toy when you were a kid?
My bike
All-time favorite movie?
Picking just one is not possible.  Some of my most favorites:  Avatar, Harvey, A Love Song for Bobby Long, Pride and Prejudice, Raiders of the Lost Ark.
All-time favorite TV series?
M*A*S*H
Favorite ice cream flavor or Pistol Pete concoction?
One scoop chocolate – one scoop peppermint – one scoop buttered almond.
What toppings do you like on your pizza?
Just cheese, lots and lots of cheese.