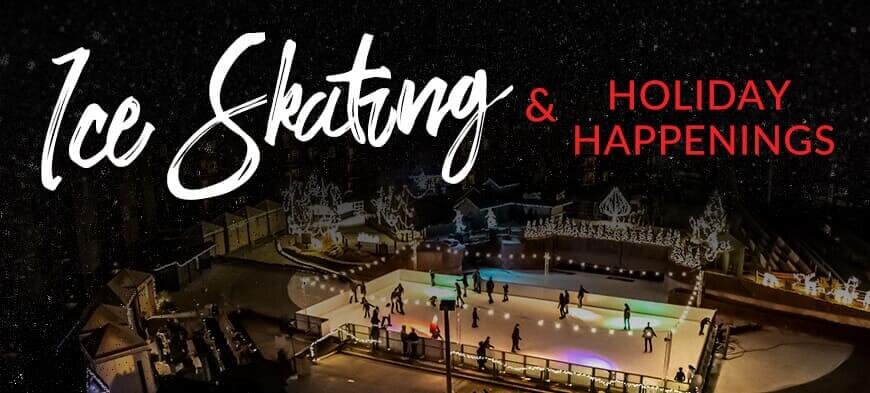 Ice Skating is Returning and Other Planned Holiday Happenings
The holidays are all about traditions, which is why we're excited to announce that our outdoor ice skating rink will be returning for the holiday season, November 15, 2019 – January 5, 2020.
The 3,200 square foot ice rink, which doubles as the resort's outdoor wave pool in summer, will be available for hotel guests and the public to enjoy. The admission fee will be included with room rates if guests use Code: ICESKATE at the time of booking. At check-in, guests will be able to purchase admissions for $10 per person. At the rink, it will be for guests or the public $20 including skates. The rink will be open from 10 am to 10 pm Friday – Sunday, Thanksgiving and Christmas break; and 4 pm to 10 pm Monday- Thursday.
Skate for a Cause
On Saturday, November 23 from 10 am to 10 pm we will be hosting a special fundraiser for Second Harvest Food Bank of East Tennessee where 100 percent of the public ice skating admissions will directly benefit the agency.
Other Holiday Traditions Being Offered
Indoors, our resort offers a variety of fun festivities including visits with Santa, story time with Mrs. Claus, cookie decorating, crafts, games and holiday shopping in specialty gift shops.
Wilderness at the Smokies' Thanksgiving
Gather with family for an unforgettable Thanksgiving Day feast from 1-8 pm. Leave the cooking and the clean up to our staff at Thirsty Miner restaurant. Enjoy a carving station and enjoy turkey, prime rib, and flame-kist Italian sausage. There will also be blackened salmon, roasted chicken and all the traditional side dishes, as well as some non-traditional dishes. In addition, there will be a special children's buffet and a delicious dessert table complete with cakes, pumpkin pie, pecan pie, cream pies and fruit tarts. The cost of our buffet is free for kids 1-4-years old, $8.99 for 5 to 8-years old, $15.99 for ages 9-11-years old and $32.99 for ages 12 and up.
Santa Appearances
The jolly ol' man will be arriving at our River Lodge lobby to light the resort's Christmas trees on November 28 at 11 am and will be sticking around to chat with guests until 1 pm. He will also be at our resort every Friday and Saturday from 6-8:30 pm. On Saturday nights, he will head from the River Lodge lobby to swim with kids in our WaterDome from 8:30-9:30 pm.
Storytelling with Mrs. Claus
Kids are encouraged to wear their jammies as they relax and listen to Mrs. Claus reading holiday favorites like "Twas the Night Before Christmas" in our River Lodge lobby November 29, 30, Dec. 7, 14, 21 and 22 from 7:30-8:30 pm.
Santa's Workshop
Kids can bring out their creative side in our Santa's Workshop, where there will be cookie decorating, holiday crafts, and even the opportunity to write a letter and mail to Santa. Santa's workshop, which will be located in the River Lodge Conference Room and will be open:
Friday & Saturdays 11am – 8pm
Sundays 11am – 4pm
Mondays – Closed (except for December 23rd & 30th – open 11am – 3pm)
Tuesday, Wednesday & Thursday 11am – 3pm
All times subject to change
Santa Hustle Smokies 5k & Half Marathon
See Sevierville like never before as thousands of Santas race along the city streets during the annual Santa Hustle Smokies 5k and Half Marathon on Sunday, Dec. 15, 2019. The race will begin and end at our River Lodge lobby, and will benefit Keep Sevier Beautiful, the local affiliate of Keep America Beautiful. For more information or to register visit http://www.santahustle.com/smokies/.
Toys for Tots
Our resort is also serving as a collection site for Toys for Tots and we would like to encourages guests and the general public to donate new, unwrapped toys to help make the Holiday a little brighter for area children in need.
Christmas Brunch
Just like at Thanksgiving, our Thirsty Miner restaurant staff will take the work out of your holiday plans. Enjoy our Christmas brunch from 9 am-2 pm that will include a carving station with smoked ham and herb crusted prime rib. There will also be an omelet station, soup and salads table, a breakfast table with bread pudding French toast, sweet cream pancakes, confetti pancakes, sweet potato hash, scrambled eggs, smoked salmon, asparagus and roasted red pepper frittata, biscuits and gravy and more. Our brunch table will include seafood stuffed white fish, spiced jerk rubbed chicken, braised pork, three cheese ravioli and more. A children's buffet and dessert table will round out the offerings. The cost of our brunch is free for kids 1-4-years old, $7.99 for 5 to 8-years old, $12.99 for ages 9-11-years old and $24.99 for ages 12 and up.
New Year's Eve Celebration
Our New Year's Eve packages offer the ultimate family-friendly party. Guests can enjoy live music, a balloon drop, champagne toast and a prime rib and crab legs dinner buffet from 5-10 pm. Our buffet will feature chef carving stations with French onion crusted prime rib, herb crusted leg of lamb and apple cider roasted pork loin. Our entrée table will include crab legs, rosemary vanilla cedar wrapped salmon filets, char-grilled steaks with roasted shallots mushroom and fresh herb, Cajun pork chop with wild mushroom and spinach saute, pina colada clams, and more. There will also be a salad table, a children's buffet and dessert table. The cost of our buffet is free for kids 1-4-years old, $11.99 for 5 to 8-years old, $19.99 for ages 9-11-years old and $39.99 for ages 12 and up.
Winterfest in Pigeon Forge, Gatlinburg and Sevierville
Finally, many of the region's entertainment and tourist attractions transform for the holidays. Smoky Mountain Winterfest offers a spectacular display of lights and events across these three mountain towns to celebrate the chilly season with light displays, unique shopping, award-winning shows and attractions — all while showcasing the winter beauty of the Great Smoky Mountains National Park.
We hope to see you this holiday season! Happy Holidays from all of us at  Wilderness at the Smokies!