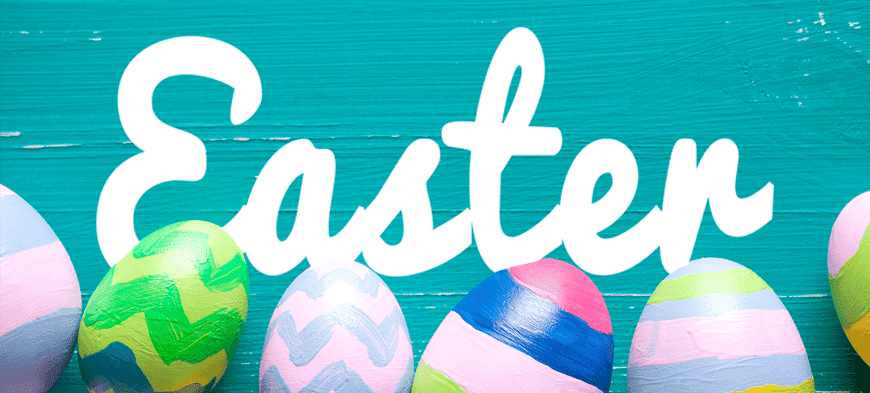 Join Us For Easter 2021!
Celebrating Easter weekend at our resort? We have a variety of ways to make it special!
Easter Add-On In-Room Package
Bring a smile to your kiddos face when they walk into your guest room and see a special Easter  Basket just for them with complete with an Easter card, coloring sheets, crayons, a plush animal and two delicious truffles from our very own Candy Cabin. The cost of this add-on in-room package is $35 plus tax to order it call 877.325.9453.
Win A Mega Easter Basket
Guests staying at the resort during Easter weekend will be able to enter our drawing to win one of two Mega Easter Baskets (and when we say mega we mean mega!)
Each basket will contain a $100 gift card to the resort, a certificate of for one night's lodging at Stone Hill Lodge, two Soaky Mountain daily admission tickets and a variety of goodies from our gift shops and Candy Cabin. (A total value of $500 – Wow!) One entry slip will be provided at check-in to each registered guest over age 18. The winner will be notified at 8 am on Easter Sunday.
Easter Day Activities
Easter Egg Hunt Trail
Upon check in guests will also receive a map of our Easter Egg Trail. Then, on Easter Sunday from 10 am to noon your kiddos can hippity hoppity down it just like Peter Cottontail and stop at the various locations on the trail to pick up plastic eggs filled with treats.
Pictures with Monty
Monty, our moose mascot, will be on the Firefly patio (or River Lodge Conference Room in the event of inclement weather) for photo ops with kids from 10 am to noon on Easter Sunday.
Easter Brunch
We're excited to announce our Thirsty Miner restaurant will be serving Easter Sunday Brunch on Sunday, April 4 from 9 am-1 pm. The brunch will be served by masked wait staff and will feature:
Salad and Soup Table
Chilled Shrimp Display with Condiments
Tropical Ambrosia
Cucumber Tomato and Dill salad
Display of Fresh Seasonal and Tropical Fruits including Watermelon, Cantaloupe, Honeydew   and Strawberries
Spring mix side salads Including Fresh Spinach and Fresh Seasonal Greens with an Assortment of Toppings
Miniature Bagels with Whipped Cream Cheese
Loaded Potato Soup
Made to Order Omelets with: Diced Ham, Fresh Spinach, Onions, Tomatoes, Sliced Mushrooms, Diced Bell Peppers, Bacon, Sausage, Fresh Jalapeno,
Shredded Cheddar & Shredded Monterey Jack
Breakfast Table
Apple Wood Smoked Bacon, Pork Link Sausage
Buttermilk Pancakes, Bananas Foster Sour Dough French Toast served with warm Maple Syrup, Brown Sugar and Vanilla Bean Cream
Bacon and leak Potato Casserole
Maryland Lump Crabcakes
Fresh Baked Biscuits and Country Gravy
Andouille Sausage with Pepper and Onions
Farm Fresh Scrambled Eggs
Country Potatoes
Oat Meal and House Made Grits
 Carving Station
Smoked Honey Baked Ham with Pineapple Glaze
Slow Roasted New York Strip Loins with Pinot Noir Demi
Orange Mustard – Creamed Horseradish
Brunch Table
Grilled Salmon with Poached Pineapple Salsa and Caper Cream
Madeira Chicken with Caramelized Shallots and Mushrooms
Mashed Potatoes and Brown Gravy
Vegetable Rice Pilaf
Steamed Broccoli
Cheese Ravioli with Vodka Sauce
Steamed Rice
Sweet and Sour Chicken
Vegetable Lo-Mein
Pan seared Schitaki Mushroom Potstickers with dipping sauces
Kids Table
Chocolate Chip Pancakes, Macaroni and Cheese, Chicken Nuggets, Potato Barrels , Mini Corn Dogs, and Sweet Yellow Corn on the Cob.
Dessert Table
A fine selection of desserts to including: Pastries, warm Cinnamon Rolls, Cheesecakes, Cakes, Pies, and Petit Fours.
Cost for the buffet will be $24.99 for children 12 and up; $12.99 for kids ages 9 to11 and $6.99 for children ages 5-8. One child under the age of 4 will eat free with each paying adult. No reservations are required.
Happy Easter Everyone!