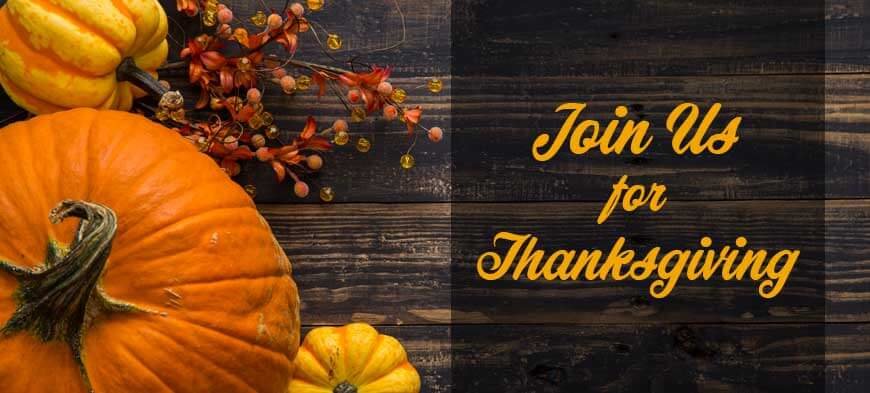 Start A New Tradition – Celebrate Your Thanksgiving With Us!
It's that time of year when we give thanks for our family, friends and all that we have. We're happy to announce our Thirsty Miner's Thanksgiving buffet will be returning but with some new safety measures due to COVID-19.
Enjoy a hearty buffet served by mask and glove wearing staff, from 1 pm to 8 pm. Plexi-glass shields will protect the front and side of the buffet. Masks will be required as guests are in the buffet line but not once they are seated at their table.
Tables will be spaced six feet apart from each other and will be disinfected between use. The restaurant will also be operating at a reduced capacity. Reservations will be required. Please call 865.868.4473 to make your reservation.
Buffet items will include:
A Salad Table
Fresh Seasonal Fruits including: Watermelon, Cantaloupe, Honeydew, Strawberries
Fresh Spinach Salad
Fresh Seasonal Greens Salad
Waldorf Salad Ambrosia Salad
Cranberry Sauce
Peel and Eat Shrimp Display accompanied with Cocktail Sauce and Lemons
Broccoli and Cheese Soup
New England Clam Chowder
 A Carving Station
Slow Roasted Prime Rib and Fresh Rosemary Jus lie
Roast Breast of Tom Turkey and Giblet Gravy
Honey Glazed Ham
Cranberry Sauce – Creamy Horseradish – Orange Mustard
An Entree Table
Blackened Salmon with Lime Butter Cream and Grilled pineapple salsa
BBQ Hickory Smoked Ribs
Bacon wrapped Meatloaf
Battered Catfish
Traditional Mashed Potatoes
Cornbread Dressing
Maple Glazed Carrots
Candied Sweet Potatoes with Marshmallows and Cinnamon
Green Bean and Mushroom Casserole with Crispy Tobacco Onions
Sweet Buttered Yellow Corn
Steamed Fresh Broccoli
Vegetable Lo Mein
Garlic Chinese Green Beans
Steamed White Rice
Pot Stickers with Dipping Sauces
Mongolian Beef
Sweet and Sour Pork
Assorted Dinner Rolls
A Children's Buffet
Chicken Nuggets
Macaroni and Cheese
Mini Corn Dogs
Tater Tots Cheese Ravioli
Corn
Green Beans
Cheese and Pepperoni Pizzas
PB & J Sandwiches
Cookies and Brownies
A Dessert Table
A fine selection of desserts to include: Cakes, Pumpkin Pie, Pecan Pie, Cream Pies, & Fruit Tarts, Petit Fours and assorted Cheesecakes
Cost for the buffet will be $32.99 for adults (ages 12 and up); $10.99 for ages 7 to 11 years old and $8.99 for kids 3 to 6 years old.
Happy Thanksgiving from all of us at the Wilderness.