 Wilderness Aquatics Team Revive Guest After Heart Attack
Reprinted with Permission by The Mountain Press
By The Mountain Press Reporter: Jeff Farrell
Michael Kirkham owes his life to the aquatic team at Wilderness at the Smokies.
The 43-year-old had gotten an early start to his last day at the resort on July 18, letting his family sleep in while he enjoyed some of the rides.
He was on the Surf Rider, which creates waves a person can surf on, when he went into cardiac arrest.
He said he started feeling like he needed to catch his breath as he was riding, and then it happened fast.
"I wiped out and came down the ride and just face planted and went into instant VTAC (Ventricular tachycardia) and died essentially," he said.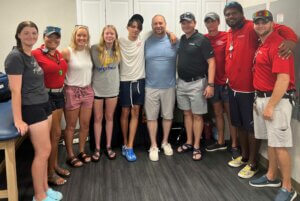 He has since gone back and looked at video of the incident himself.
"What they did was phenomenal," he said. "They spent 17 minutes working on me, taking turns doing CPR, shocking me."
There were three occasions where they lost his pulse during the incident, but the team was able to revive him each time, said D'Anna Johnson, assistant director of the aquatics team.
"He would talk to me a few seconds and was able to tell me his name and he would go pulseless again," she said.
Kirkham said the first thing he recalls after feeling his heart racing was hearing Johnson's voice.
She gave all credit to the team she supervises and helps to train.
Each member of the team goes through 30 hours of training upon being hired by Wilderness, and gets more in-service training while they're working. She could see all of them following through with that training while working to save Kirkham.
"They executed perfectly," she said. "I couldn't be more proud of them."
That training is a point of pride for Wilderness, Assistant General Manager Chase Singleton said.
"We hold absolute confidence that it was this comprehensive training that served as the bedrock of our team's exemplary professionalism during this event," he said.
"We are filled with tremendous pride over our team's masterful response to Mr. Kirkham's medical event, and we express our deepest appreciation for his successful recovery."
By the time a crew from Sevier County Ambulance Service made it to the scene, Kirkham was sitting up and talking, Director Rick Valentine said.
They took Kirkham on to a local hospital, where he was released just four days later.
His cardiologist told him patients in his situation generally have about a 3% chance of surviving — and that often depends on having people immediately ready to use an AED and to give CPR.
Many of the county's businesses and attractions have AEDs readily available, as well as staff trained in first aid, Valentine said, and the quick response from Wilderness' staff helped show how important that can be in saving a life.
"We're very proud to work alongside them," he said.
Kirkham said Wilderness let his family stay on for free while he was in the hospital, so that was already the first place he went when he got out of the hospital.
He immediately went to meet with the team that saved his life, and he's planning on doing something for them to show his appreciation.
"I'm going to do something big for these people because they did something big for me," Kirkham said.
Seeing him up and walking so soon after they were working to save his life was something the team will always remember, Johnson said.
"Seeing him walking and talking and hugging everybody and thanking everybody, that's what we train for," she said
Photos by Tamekah Cooper, John's sister-in-law.
A story on this also ran on WVLT TV by Kyle Krainger. It can be viewed at https://www.wvlt.tv/2023/08/10/man-recovers-after-heart-attack-wilderness-smokies/