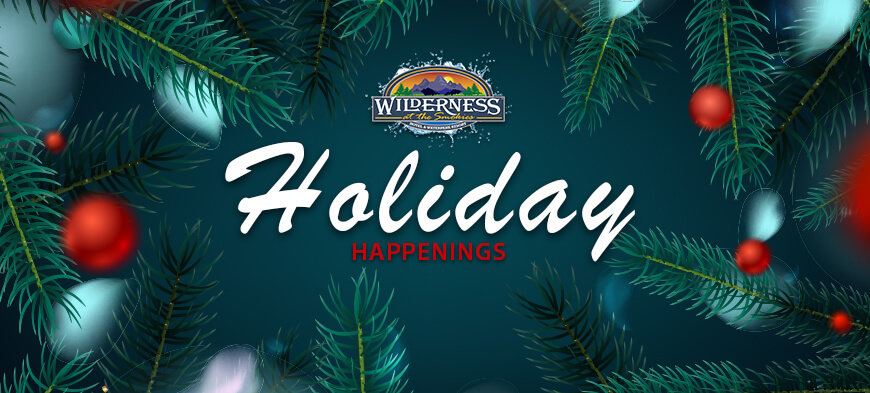 2021 Holiday Happenings – Join the Fun
Christmas is one of our favorite times of year. The resort is festively decorated inside and out, and we have all sort of fun holiday events. Plan now to be part of our celebration!
Ice Skating
Experience the fun of skating on a real ice rink from November 12-January 9 as a 3,200 square foot portion of our outdoor wave pool will once again be converted into a festive rink surrounded by holidays lights and decorations. Be sure to stop in our Winter Wilderland, get a cup of hot cocoa or make a s'more while you are there!
For complete details, visit: https://www.wildernessatthesmokies.com/blog/ice-skating-to-return-november-12-january-9/
Skate for a Cause
On Saturday, November 20, from 10 am to 10 pm, we will be hosting a special fundraiser for Second Harvest Food Bank of East Tennessee, where 100 percent of the public ice skating admissions will directly benefit the agency.
Santa's Workshop
This fun tradition is returning! In Santa's workshop kids can bring out their creative side, where there will be cookie decorating, holiday crafts, and even the opportunity to write a letter and mail to Santa. Santa's workshop, which will be located in the River Lodge Conference Room as well as outside in the Winter Wonderland by our ice skating rink will be open:
November 26, 11 am to 3 pm
November 27, December 3, 4, 10, 11, 17, 18, 24 and 25, from 11 am to 8 pm
November 28, December 5, 12, and 19, from 10-2 pm
Santa Appearances
We're happy to report that the jolly ol' man will be at our resort this season. You can find Santa in our outdoor Winter Wonderland (the first hour of each scheduled appearance) as well as in our Santa's Workshop in our River Lodge lobby (the last two hours of each scheduled appearance).
November 26, from 12-3 pm
November 27, December 3, 4, 10, 11, 17, 18, 20, 21, 22 and 23, from 5 pm – 8 pm
Story Time with Mrs. Claus
Join Mrs. Claus on Friday, November 26, December 3, 10 and 17, from 8 to 8:30 pm as she hosts 30-minute Christmas themed story times in our River Lodge lobby.
Breakfast with Mrs. Claus
Mrs. Claus will be in the Thirsty Miner greeting those having breakfast from 9-10 am on November 28, December 5, 12, 19 and 24. Stop in enjoy a great meal and say hello to her.
Santa Hustle Smokies 5k & Half Marathon
See Sevierville like never before as thousands of Santas race along the city streets during the annual Santa Hustle Smokies 5k and Half Marathon on Sunday, Dec. 12. The race will begin and end at our River Lodge lobby, and will benefit Keep Sevier Beautiful, the local affiliate of Keep America Beautiful. For more information or to register, visit http://www.santahustle.com/smokies/.
Thirsty Miner's Amazing Christmas Dinner
Enjoy a Christmas Day feast to remember from 1-8 pm. Reservations are required. Please call 865-868-4483 to make one.
Salad Table
Waldorf Salad; Tropical Ambrosia; Display of Fresh Seasonal and Tropical Fruits; Seasonal Greens with your choice of Dressing; Peel and Eat Shrimp display with Cocktail Sauce and Lemons; Roasted Chicken Noodle; and Broccoli Au Gratin Soup
Carving Station
Smoked Bone-in Ham with Peach Glaze and Slow Roasted Herb Crusted Prime Rib with Fresh Rosemary Jus – served with Cranberry Sauce; Orange Mustard; and Creamed Horseradish
Entrée Table
Delicate Salmon Piccata; Baked Stuffed Blue Crab; Golden Fried Chicken; Peach Bourbon Glazed  Pork Ribs; Three Cheese Ravioli with Al La Vodka; Broccoli  Au Gratin; Herb Roasted Garlic Fingerlings Russian Banana Laratte and Purple Peruvian Potatos; Stewed Apples; Cornbread Dressing with Cranberry Pinot Noir Sauce; Mixed Berry Cheese Blintz; Roasted Sweet Potato with Honey Cinnamon Glaze; Sweet Yellow Buttered Corn; Traditional Mashed Potatoes; Baked Garlic Parmesan Zucchini and Summer squash Fries and Dinner Rolls
Children's Buffet
Chicken Nuggets; Macaroni and Cheese; Mini Corn Dogs; Buttered Corn; French Fries; Cheese and Pepperoni Pizzas; Cookies; and Brownies
Dessert Table
Cakes; Pumpkin, Pecan and Cream Pies; Assorted Cheesecakes, Petit Fours; Mini Cannolis and Mini French Eclairs
Cost is $34.99 for ages 12 and up; $12.99 for children 7 to 11 years old; and $8.99 for kids 4 to 6 years old. Tables will be spaced six feet apart from each other and will be disinfected between use. Reservations will be required. Please call 865.868.4473 to make your reservation.
Winterfest in Pigeon Forge, Gatlinburg and Sevierville
Finally, many of the region's entertainment and tourist attractions transform for the holidays. Smoky Mountain Winterfest offers a spectacular display of lights and events across these three mountain towns to celebrate the chilly season with light displays, unique shopping, award-winning shows and attractions — all while showcasing the winter beauty of the Great Smoky Mountains National Park.
Winter Warm Up Package – 48 Hour Notice Required
Our Winter Warm Up Package include 2 Wilderness drawstring bags, 2 sets of children's knit gloves, 2 packs of hand warmers, 4 chocolate chip cookies, 2 hot chocolate packets and 2 Wilderness coffee mugs. Cost is $50. Call 877.325.9453 ahead and let an associate know if you would like to book this package!
Holiday Story Time Package – 48 Hour Notice Required
Our Holiday Story Time Package includes a 'Twas the Night Before Christmas book, a Wilderness plush animal, a pint of milk and 2 chocolate chip cookies for $35. (additional add-ons available). This package can be delivered to your room before you arrive for a great surprise!  Call 877.325.9453 ahead and let an associate know if you would like to book this package!
We hope to see you this holiday season! Happy Holidays from all of us at Wilderness at the Smokies!