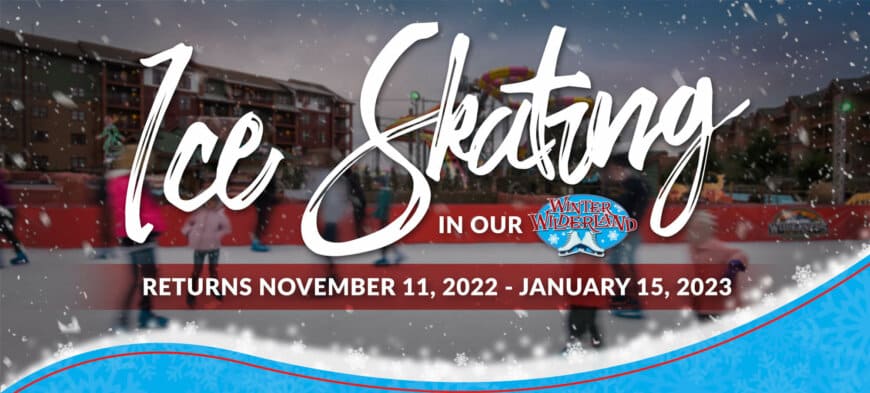 Ice Skating is Returning!
We're so excited to share our holiday tradition of ice skating at the resort is returning November 11-January 15th!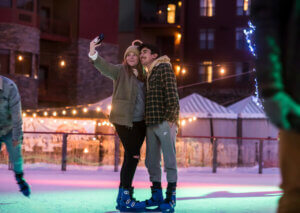 That's right! A 3,200 square foot portion of our outdoor wave pool will once again be converted into a festive, real ice skating rink, where hotel guests and the public can have fun together. Music, holidays lights and a snack area serving up hot chocolate and more will add to the fun atmosphere.
For the absolute best deal that includes everyone in your party for the duration of your stay be sure to book our Skating Package- Code: ICESKATE at the time of booking. Or, add it on per person per day for only $10.99 at the time of booking. Upon arrival at the resort, guests will be able to purchase admissions for $13.99 per person per day plus tax. The general public can purchase admissions at the rink for $18.99 plus tax including skates. Soaky Mountain Season Pass Holders can skate for $10.99.
The rink will be open from 10 am to 10:30 pm Saturday – Sunday, Thanksgiving week (November 21-25) and Christmas break (December 19-30); and 4 pm to 10:30 pm Monday- Friday. For a detailed calendar visit https://www.wildernessatthesmokies.com/waterpark-hours/ice-rink-hours/ and click on the ice rink hours tab.
More Fun Things!
-A DJ will be onsite Fridays and Saturdays beginning November 11 from 7-10 pm
–Skaters from The Ice Chalet will provide performances at 7 pm on select Friday nights throughout the season; December 9th, 16th , January 6th , and 13th
–Monty's Youth Skate will be offered every Saturday (except December 17) between 9 -10 am (before the rink opens) for younger, unexperienced skaters to get time on the ice without bigger and faster people speeding around them. We offer skating aids, a surprise Christmas gift, and an opportunity for a photo with Monty or Molly. The cost is $9.99 per child and includes, skates as well as the day's admission to the rink.
-On Sunday, December 4 from 7-11am Pro Vision Hockey Academy will host hockey games featuring local 8U and 10U players.
-On Saturday, December 17th from 7-10 am and Sunday, December 18th from 7-11am Cool Sports will also play host to youth hockey games featuring local area skaters. There will also be special appearances throughout the event by Chilly Bear of the Knoxville Ice Bears Professional hockey team.
Skate for a Cause Is Returning Too!
On Saturday, November 19, from 10 am to 10 pm we will be hosting a special fundraiser for Second Harvest Food Bank of East Tennessee where 100 percent of the public ice skating admissions will directly benefit the organization.
All participants must complete the online waiver prior to participation in the Ice Rink festivities.