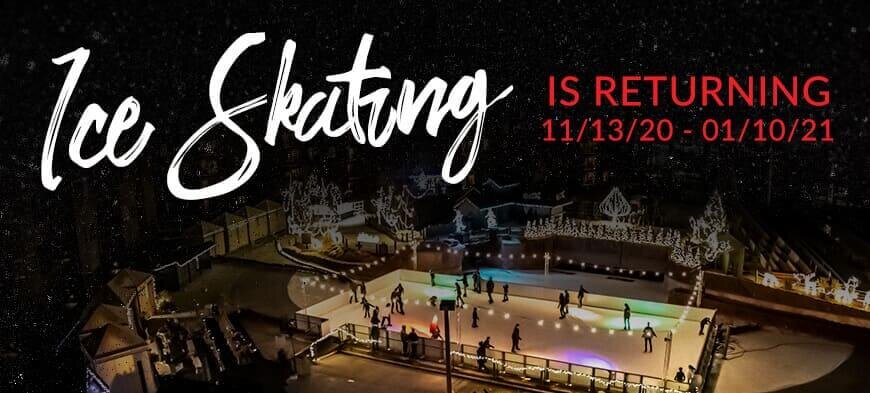 Ice Skating to Return November 13-January 10
We're so excited to share that we are remaining committed to continuing our holiday tradition of ice skating at the resort!
That's right! From November 13-January 10th a 3,200 square foot portion of our outdoor wave pool will once again be converted into a festive, real ice skating rink, where hotel guests and the public can take in the holiday air and have fun together in a safe, social distanced manner. Music and holidays lights will add to the fun atmosphere.
The admission fee will be included with room rates if guests use Code: ICESKATE at the time of booking. Guests will be able to purchase admissions for $10 per person. General public can purchase at the rink for $17.99 plus tax including skates.
Skates will be disinfected between use with a hospital grade sanitizer product. The rink will be open from 10 am to 10 pm Saturday – Sunday, Thanksgiving and Christmas break; and 4 pm to 10 pm Monday- Friday.
More Fun Things!
-A DJ will be onsite Friday Nov. 13, 20 and  27 from 7 to 10 pm
–Every Friday evening from 7:30-7:45pm there will be  a figure skating performance.
-There will be skating lessons offered by Cool Sports every Saturday between 9 -10 am. The cost of a lesson is $15 for 30 minutes or $25 for an hour. Reservations will need to be made in advance at the Smoky Crossing Hut.
-On Saturday, December 5 from 7 am to noon Cool Sports will also be hosting a hockey game for folks to watch
Skate for a Cause Is Returning Too!
On Saturday, November 21 from 10 am to 10 pm we will be hosting a special fundraiser for Second Harvest Food Bank of East Tennessee where 100 percent of the public ice skating admissions will directly benefit the organization.