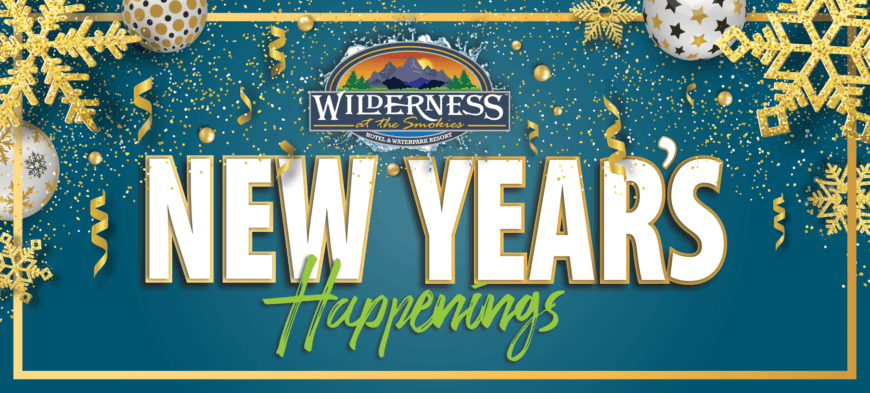 New Year's Eve 2022
Ring In New Year's With Us!
Join us as we say goodbye to 2022 and welcome in 2023 in a variety of fun ways!
Monty's Mini New Year's Eve Bash
Wilderness at the Smokies will be hosting a Mini New Year's Eve Party on Saturday, December 31st from 12‐1:30 pm for children under the age of 11. The event will occur in the River Lodge Conference Room and will include a dance party and party favors and sweet treats for kids to enjoy.
Camp Social's New Year's Eve Crab Legs and Prime Rib Buffet
From 2-8 pm on New Year's Eve our Camp Social will be having a Crab Legs and Prime Rib buffet unlike any other.
Reservations will be required. Please call 865.868.4483 to make your reservation.
The Salad Table will include:
Chilled Shrimp Display with Cocktail sauce, Sauce Mignonette, Horseradish and Lemons
A display of Imported and Domestic Cheeses
A display of Fresh Seasonal and Tropical Fruits including Watermelon, Cantaloupe Honeydew and Strawberries
Garden Fresh Caesar Salad   Fresh Spinach   Fresh Seasonal Greens
Aged Cheddar Broccoli Bisque
Old Fashion Chicken Noodle Soup
Chicken and Dumplings
A Carving Station will be serving:
Slow Roasted Herb Garlic Crusted Prime Rib with Fresh Jus
Brown Sugar Pineapple Honey Baked Ham
Creamed Horseradish
Entrees will include:
Delicate Opilio snow crab with Drawn Butter
Fresh poached pineapple Cajun Salmon filets
Mango Chutney Roasted Pork Tenderloin with Peach Mango Compote
Jamaican Jerk Chicken with Wild Mushroom Gravy
Lobster Mac and Cheese
Herbed Roasted Smashed Potatoes
Vegetable Rice Pilaf
Mashed Potatoes and Brown Gravy
Broccoli and Cauliflower Au Gratin
Tri Color Cheese Tortellini and Shrimp Alfredo
Mongolian Beef, Char Siu Pork, Steamed Rice
Our Children's Buffet will include:
Chicken Nuggets
Macaroni and Cheese
Mini Corn Dogs
Buttered Corn
Tater Tots
Penne Pasta & Meatballs
Cheese and Pepperoni Pizzas
Cookies,
Dessert Table
to conclude your meal there will be a fine selection of desserts to Include: Chocolate cake, Red Velvet, Banana and Coconut Cream Pies, Mini French Eclairs, assorted Petit Fours, Cotton Candy/ assorted flavors cheesecakes, and Apple, Pumpkin, and Pecan Pies
The cost is $39.99 for ages 12 and up; $16.99 for children 7 to 11 years old; and $8.99 for kids 4 to 6 years old. Guests 21 or older
Reservations will be required. Please call 865.868.4483 to make your reservation.
New Year's Eve Party- SOLD OUT
Our New Year's Eve party which is the hottest ticket in Sevierville is back and we're ready to make it an extra special night for 500 guests.
At 9 pm on New Year's Eve, we will be closing our Wild WaterDome so it can reopen from 10 pm-1 am for a special VIP celebration. A DJ will be on hand from 10 pm-1 am to make the party extra fun, and we will be giving away prizes every 15 minutes between 10:30 pm and 12:15 am.
The cost for participating in our New Year's Eve VIP Bash is $20+ tax for adults (21 plus); $15+ tax for individuals 9-20 years of age; $10+ tax for children 3-8 years of age and FREE for children 2 and under. Tickets can be purchased by calling reservations at 877.325.9453.
We also have 4 VIP New Year's Eve Cabana Packages available- SOLD OUT
Package $549+ tax includes:
Admission for up to 8 guests
rental of cabana from 10 pm-12:30 am
2 appetizers and champagne toast
The Cabana Packages can be purchased by calling reservations at 877.325.9453.
Don't wait- tickets will be sold on a first come first served basis.
Other Things to Do
Please note on New Year's Eve our ice rink will be open until 12:30 am. For ice skating details visit: https://www.wildernessatthesmokies.com/blog/ice-skating-to-return-november-12-january-9/
Adventure Forest will be open until 12:30 am.
Firefly Bar and Patio and Hidden Trail will be open until 12:30 am.
Have a Happy New Year everyone!