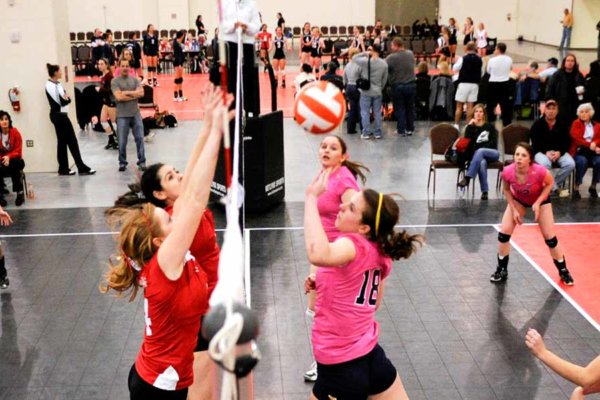 Sporting Events
Whether your sport is basketball, volleyball, karate, gymnastics, cheerleading or BMX biking, Wilderness at the Smokies has a great deal to offer any type of sporting event you may need to host. Set in the picturesque heartland of the Great Smoky Mountains, and within 75 percent of the United States population. The Wilderness is an asset to the Sevierville/Pigeon Forge/Gatlinburg area. We offer a wide variety of amenities from our waterparks and arcades to The Sevierville Golf Club, there is truly something for every guest!
To assist with the setup for your event, Wilderness at the Smokies features its own sports court flooring and can provide up to twenty (20) volleyball courts and nets or if the sport is basketball, five (5) sets of basketball hoops. The resort is proud to have hosted several sporting events, including an annual gymnastics competition and is dedicated to growing with new athletic and competitive events. (www.sportcourt.com for more information on our court)
To say we're a one stop shop for all your tournament needs would be an understatement! From lodging to amenities, Wilderness at the Smokies has it all. Best of all, waterpark passes are included with your stay. No matter what accommodation (Stone Hill Lodge or River Lodge), you will receive full access to all the amenities Wilderness has to offer including a complimentary shuttle service so guests can move freely about the property.
The experienced group sales staff has worked with many tournament directors who have experienced great events. Take a look at this article in Sports Events magazine, which explains What It Takes To Make An Event Great.
Doug Jonuska, partner of NetLynx Sports, has stated…
"My company, NetLynx Sports, has organized over 40 major competitive events across the country over the past 25 years. One of the biggest events we've ever had was the Smoky Mountain Gymnastics Vacation Classic at Wilderness at the Smokies Resort. Our three-day event at Wilderness had over 900 competitors and was attended by more than 6,000 parents, coaches, spectators and judges. Wilderness at the Smokies was wonderful to work with. They absolutely bent over backwards to partner with us and make our event a success. I will definitely be going back to Wilderness at the Smokies for more events in the future."
In addition to all the waterpark fun, Wilderness Resort has many other exciting amenities:
Adjacent to the Sevierville Convention Center, with over 128,000 square feet of event space.
Various dining facilities including two (2) full service, on-site restaurants.
Two (2) Business centers so guests can stay connected.
Fitness Center located at each lodge for the health conscious.
36-hole championship golf, The Sevierville Golf Club, adjacent to River Lodge.
18-hole adventure mini golf
Paint Your Own Pottery shop where guests can create a keepsake to treasure.
Retail shops where guests can purchase souvenirs and various other convenience items.
Onsite banquet space to accommodate up to 110 people.
The staff at the Wilderness at the Smokies will ensure that you and your guests receive an experience that is second to none. We can provide an event that will keep your group coming back for years to come.
Click here to submit a Request for Proposal for the date you have in mind for your next sporting or competitive event. If you prefer, please contact Nikki Harrell, Group Sales Executive, at 865-868-2170.