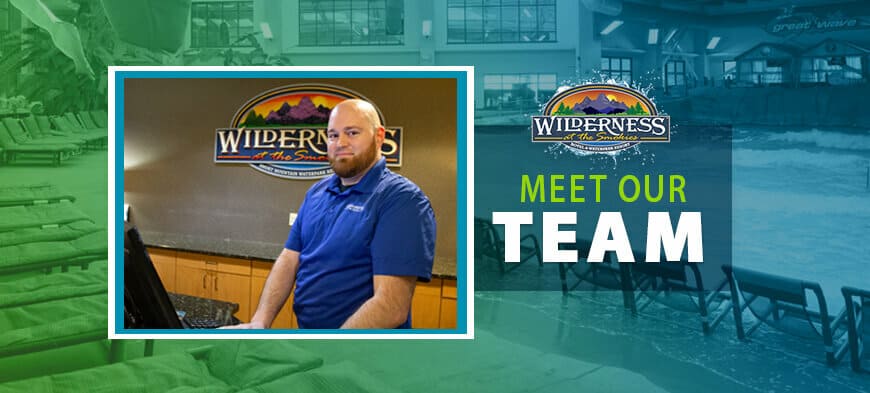 Get to Know Chris Our Director of Guest Services
Name: Chris
Title: Director of Guest Services
So, what does your title mean you do at the Wilderness?
I am responsible for leading the front desk team members and operations at each of our two front desks to ensure our guests are taken care of from check-in to check-out and everything in-between.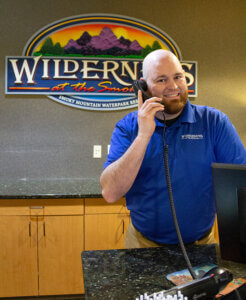 What is the best part of your job?
I get a great sense of accomplishment working with people. Sometimes that means teaching a team member to help them grow with the company while other times it's helping a guest make the most of their stay.
How long have you worked at the Wilderness and in what roles?
I have been with Wilderness for almost 4 years, I started as the Assistant Manager in Guest Services in April of 2018 but soon after was promoted to Guest Services Manager. I held that position until the Spring of last year where I was promoted to Director over the department.
Favorite wet attraction at the Wilderness?
The Wave Pool!
Favorite dry attraction at the Wilderness?
The Ice Rink, I am not a big skater myself but I bring my family to enjoy the rink, the fire pit, and the hot cocoa.
Favorite food venue at Wilderness?
The Mountain Market Deli, super convenient for whatever I need and the team members over there are great to chat with.
Favorite thing to eat at Wilderness?
The ribs at Thirsty Miner are great!
Piece of advice for first time guests?
Focus on making memories you'll cherish for years to come; so slow down, relax, and just enjoy yourself.
Now for some fun stuff:
Favorite toy when you were a kid?
I had a lot of Star Wars toys as a kid and even took them with me when I travelled to my grandparents' house on the weekends.
All-time favorite movie?
Picking just one is really tough but I'll go with my "go to" movie, The Big Lebowski
All-time favorite TV series?
The NFL, always dramatic, exciting, and I never have to worry about it getting cancelled. Go Niners!
Favorite ice cream flavor?
I'm a simple ice cream fan, Vanilla.
What toppings do you like on your pizza?
Pineapple (it does belong on pizza), pepperoni, and bacon